If you are still wondering how to Manage customer information effectively? Vtiger CRM is the best choice for you. Because Vtiger provides appropriate solutions to help you manage customer information simply, quickly and efficiently.
Automatically update customer data on webform
Vtiger CRM can capture customer data from web form. In addition, the system also receives new customer information via email and creates contacts. You will not waste much time on these repeated updates.
Filter duplicate customers, easily aggregate and split customer information
When you Manage customer information by excel, you often encounter duplicate contacts, each contact has a different information about the same customer. Especially, you must copy and paste to other files for manipulation, which makes the information swell uncontrollably. Vtiger module – Manage customer information allows you to filter duplicate customers, combine information in duplicate records to a single file. In addition, you can manage multiple customer profiles of the same organization.
Synthesize all information about each customer in a separate file
Vtiger software stores a full interaction history with potential customers. In each contact profile, you will find full personal information, customer notes, emails, calls and appointments, etc. In addition, if you sent the files, quoted or interacted with customers in any way, you would find information here. This helps you find information faster in case of interaction, as well as understand your customers more.
Easily search and Manage customer information with keyword
When you need to search for any information about any customer, you only need to remember a keyword such as name or company or used product, etc and enter that keyword into Vtiger software, you are easy to find profiles that you need. This search method is very friendly because it is exactly similar to your search on google.
Create own customer list
Normally, each salesperson has an own customer list. Or sometimes companies divide customers into potential groups, VIP customers, close customers, etc for personal care. If you Manage customer information by excel, you have to split different sheets or files, it is difficult to filter and manage in synthesis process. Vtiger module of customer information management will help you create your own lists of each member and set them as default so that you can track immediately in case of access. These lists are extracted from the total list and do not affect that total list.
Create a portal for customers' access
You can grant customers the software access right through the customer portal. Here customers can share documents and attached files directly through the customer portal. Whereby, you may not have to manually download attached files to their profiles.
Find your most valuable leads
Each potential customer has its own value. The filter of the most potential customers through profile review and their interaction frequency with you will help you have suitable directions. Simultaneously, you spend more time on the most convertible objects.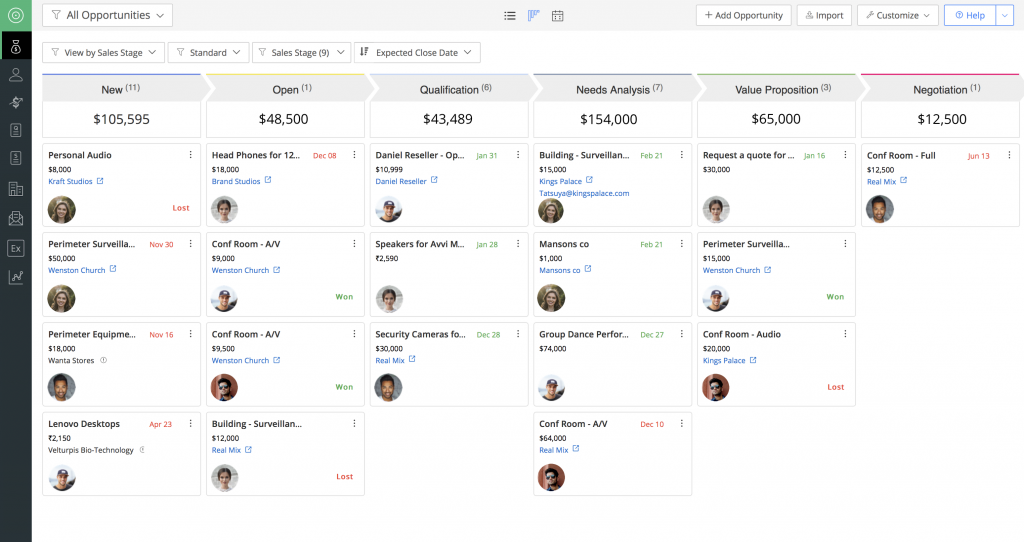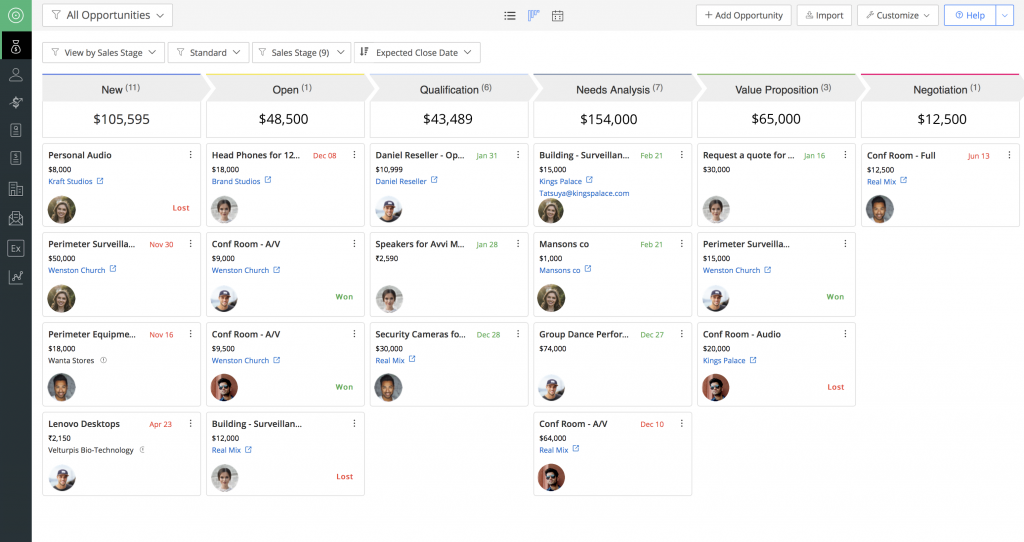 Manage contacts from the same company
All customers from a company are managed centrally at that company's own profile. You can easily save multiple contacts and each contact arises opportunities, jobs, documents, etc separately.
Synthesize information about products and services to advise customers
Vtiger CRM allows to create a library of questions and answers about products, services, etc of the company. Thereby, members can access together to find answers for customers' inquiries fastest.
Monitor feedback and warranty activities
Customer requests are listed in the support section. Managers can easily check stages of warranty activities, response schedule to customers and customers' feedbacks on services. In addition, Vtiger CRM also allows creating automatic reminders when customer feedback calendar comes.
Send emails, messages and call customers from CRM
Vtiger CRM allows you to send messages, emails and call customers on the monitored list. You can choose and send messages to multiple people at once or create campaign emails to send the whole customer list.
Some Vtiger modules – Manage customer information are mentioned above. Contact us now to receive consultancy from Vtiger partner in vietnam. We are always here