Vtiger is proud to say that in early 2017, Gartner, Inc has recorgnized them as a Leader in the CRM soft ware with 5 others (see the report). Gartner decided this awards based on an analysis of independently published reviews by verified customers, in which Vtiger was consistently praised for high value and capability. See detail position below!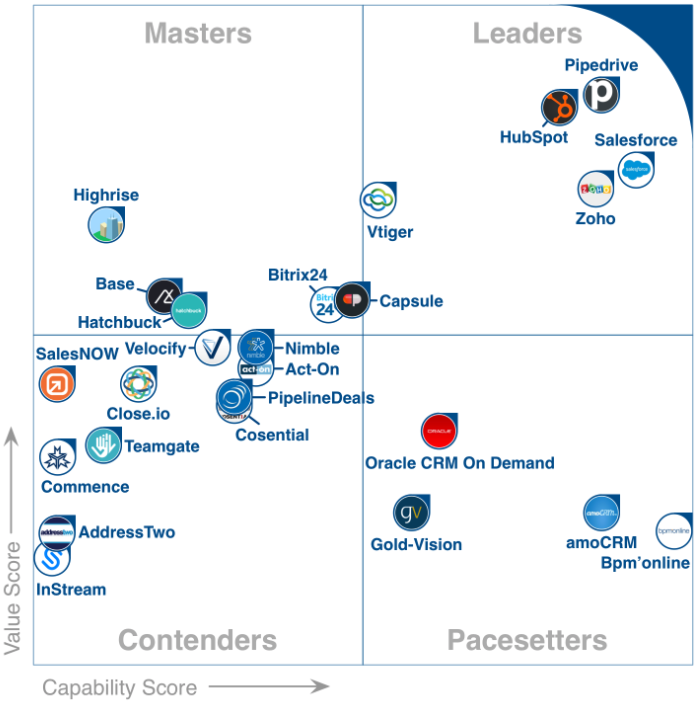 Value is a hotly discussed topic in the CRM space. Many analysts and companies arguing that narrow feature and scaling-unfriendly pricing models limit the value businesses get from CRM solutions, especially as they grow in size and complexity of the customer journey to include more marketing, sales, and support initiatives. Vtiger take pride in going head to head with the industry's best, delivering best of breed solutions for sales and customer support teams, that are cost-friendly and easy to use for small and mid sized businesses, while scaling effortlessly to support large teams. In addition, Vtiger go against the grain of siloed software to support business needs as they evolve, providing a complete customer journey management solution that we call the Ultimate Edition, which integrates customer data flawlessly behind the scenes so that everyone in the business gets a 360-degree historical view critical to providing a great customer experience, and which many might argue delivers among the best value in the industry.
Vtiger is proud to join the ranks of CRM companies publicly touted as being the best, and they continue delivering upon our promise to help businesses forge amazing, profitable customer experiences and relationships.